our vision
We operate to change
the life of unprivileged children
"Don't look for big things, just do small things with great LOVE….The smaller the thing, the greater must be our LOVE." ---Mahatma Gandhi.
our mission
GlobalCrucible's Mission Statement
GlobalCrucible is a 501(c)(3) nonprofit (green) Corporation and our niche is in these three areas:
Green Living
Reduce, Reuse, Recycle tangible and intangible resources as a means of conserving the environment with main focus of improving communities's welfare.
- Promote more sustainable eco-lifestyle.

- Advocate for health and wellness.
Education
GlobalCrucible strives to bridge the technological gap among social classes by collecting and donating new or used technical equipment as medium for facilitating education among low-income populace.
- Partner with education outreach organizations and; after school programs that focus on basic technical and medical field training for underprivileged youth and low income students.
Human Services & Community Development
- Assistance with basic needs within communities; donate food, clothes and other life's essentials.

- Sponsor community events, conduct fundraising drives and volunteerism.

- Health services and community welfare, work with hospitals to collect re-usable medical equipment and donate it to community hospitals and mobile clinics in impoverished areas.
our team
Dennis Maliani

Eric Zuley

Jason Reifman
Pauli Orchon

Arthur Byasiima

Luis C. Lopez
Reporting
Benefits of GlobalCrucible Performing your Organizations Sustainability assessment and reporting: The Benefits
In today's Global economy sustainability assessment and reporting has become one of the critical criteria for grading the social responsibility of organizations. GlobalCrucible's tools will provide your organization a comprehensive sustainability report assessment to includeequipping you with tools/recommendations your organization can adopt to give you a competitive advantage.
High-level benefits:
• Reporting creates organizations' credibility between your internal and external stakeholders in the environmental, social and economic sectors
• Secondly, reporting assess your organizationsabidance to laws, regulations, norms to include measure performance, strengths and weakness thus giving your organization a baseline evaluation which GC can help you work upon as part of your continuous improvement road map
• Reporting on sustainability development on social, environmental and economic ramifications of organizations activities will expose risks or liabilities or in some cases value creation opportunities that might open new untapped market avenues for your organization • Positive sustainability trend analyses will help your organization influence policy makers
• Marketing tool to potential clients or consumers that are particularly eco - conscious
• Creates a culture of ownership, non-punitive and builds long lasting commitment
• Triggers need for efficiency, continual improvement,data integrity and resource allocation
Framework
GlobalCrucible's Sustainability Framework (GCSF) is a management model which addresses organizations' and communities' ('entities') complex issues which are Sustainability, Responsibility, Change and Monitor/Measure change.
GlobalCrucible management model is a conceptual framework based on the tradition of quality management and minimal waste approach. The aim of the GCSF is to guide and support various entities' in their implementation of Corporate or Organization Sustainability and Responsibility frame works by aiding them in addressing the ambiguity and complexity of environmental or eco-system issues.
 
GLOBALCRUCIBLE'S SUSTAINABILITY FRAMEWORK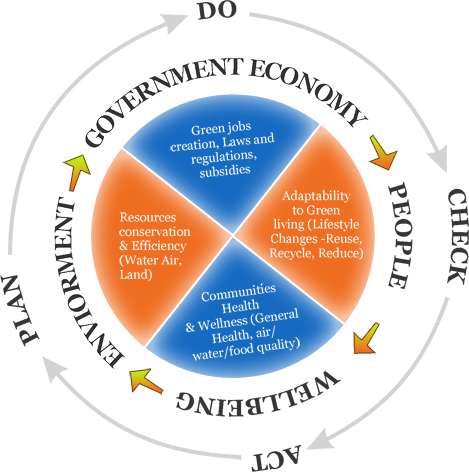 Assessment Matrix
The assessment matrix explores each segment by outlining Strengths, Weaknesses, Opportunities and Threats of any given initiative.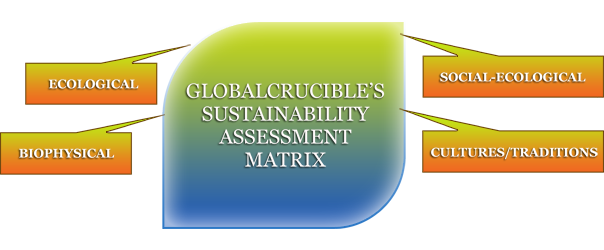 How will policies, a practice, service or product benefit or cause (minimal or extensive) damage to the environment?


How will the synergy between the physical environment and biological life forms in any given environmental location will be impacted? In case of any environmental changes how will the biological life adapt to survive or morph itself in the process?


How will the interaction in particular population segment in a given environment influence each other? Key factors: Physical activities, communication cycle, Health and wellness


How does environmental changes impact cultures? Does culture change as the economy transforms from agro- based (agricultural) to industrial based environment? Increase in population density will that translate in eliminating water bodies or deforestation to accommodate construction for a booming population?

GlobalCrucible as a green organization, part of our mission and corporate responsibility is to focus on the major areas below to address environmental justice.
• Air emissions/Pollution
• Solid Waste Disposal, Resource Conservation and Recovery
• Toxic Substances Control
• Clean Water Act

In particular helping various entities in:
• Developing an understanding of environmental justice laws and principles.
• Developing targeted enforcement initiatives/projects or plans benefiting communities most burdened by pollution sources or impacts
• Ensuring public participation and information sharing whenever possible